Dr. Somah meets with  Vice President Dr. Joseph Boakai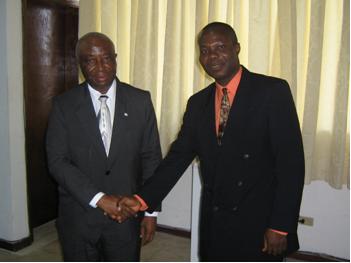 (L-R) Liberian Vice President Dr. Joseph Boakai and Dr. Syrulwa Somah, LIHEDE Executive Director shake hands at a March 9, 2006 meeting in Monrovia. 
During the meeting, Dr. Somah told the VP that LIHEDE is desirous of working with the Liberian government, the Liberian civil society, the Liberian business community and international agencies in partnership to create conditions for improving the quality of life of the Liberian people. He emphasized that LIHEDE has contributed to organizing workshops on the Restructuring of the Liberian Military and developed a sound plan for the Armed Forces of Liberia; proposed, developed and successfully implemented the soon to come Liberian Studies Program and now the Malaria Control Conference.
On the Malaria Conference, LIHEDE Executive Director informed the Vice President that during a meeting at the Executive Mansion, the Interim Government under Chairman Gyude Bryant embraced the LIHEDE Symposium 2006 Resolution, the Liberian Studies Proposal, and empowered his Health Minister, Dr. Peter Coleman, and Education Minister Dr. Evelyn Kandarkai to mobilize all available resources to make both programs a success.
Dr. Somah noted that LIHEDE in collaboration with the Government of Liberia and other health professionals in Liberia   are now planning the conference. He said his visit to Liberia was to follow-up on the symposium on December 14-19, 2006 in Liberia, to bring together health workers, international partners, sports organizations and other citizens to discuss the post-war health needs of Liberia and cutting edge technology to control malaria. 
During the meeting, the Vice President pledged his fullest support for malaria eradication in Liberia.
The Management and Staff of the Liberian Media & Advertising Services proudly congratulate Vice President Dr. Joseph Boakai and Dr. Syrulwa Somah on their selection as Photo of the week.
Start of page