Coach George Sesay Pele
Men's Football Head Coach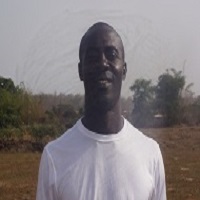 Pele has significant experience identifying quality student-athletes as well as coaching both goalies and defenseman. Before coming to HARCO, Pele served as top assistant coach and head coach at local, national and international couch in Liberia and Africa.
EDUCATION BACKGROUND: 1991-2013
Certificate, Roman Catholic School (JSS), Winniba, Ghana; Certificate; CAF Coaching License "C", Liberia; Certificate, Liberia Football Association Coaching, License "D", Liberia.
COACHING EXPERIENCE: 2009-2015
Head Coach, African Lion FC, Tanzania; Head Coach, Real Sport Club, Tanzania; Head Coach, Tarkwa United FC, Accra, Ghana; Head Coach, Ouluchi FC, Edo State, Nigeria; Head Coach, Buduburam All-Star FC; Kasoa, Ghana; Head Coach,Lofa United Football Club, Liberia.
PERSONAL ACHIEVEMENT AS PLAYER: 1993-1995
Top Goal Scoring, Advance Star FC, Accra, Ghana; Most Valuable Player (MVP), Tarkwa, Ghana; Most Valuable Player (MVP), Ashanti Kotoko FC, Comasie, Ghana; Most Valuable Player (MVP), Ulif FC, Ivory Coast; Trial, Stars Bulls FC, France; Trial, Wohyu FC, Korea; Most Valuable Player (MVP), La Hamit United, Egypt; Player, LPRC Oilers FC, Liberia; Player, Mighty Barolle FC, Liberia; Assistant Coach to 2016-2017 National County Meet Winner ( Mont. County, Liberia)